The
Bible StoryFire
Leader's Guide gives step-by-step instructions on how to teach each Bible StoryFire model. It also includes a resource section that provides extensive lists of Bible stories for practice and ministry.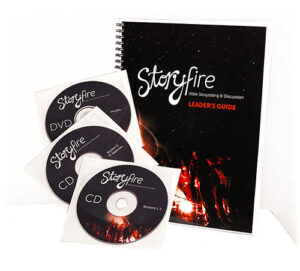 What's included
:
160-page booklet-style Leader's Guide.

This guide gives detailed instructions for each of the Bible storytelling models taught in the Bible StoryFire series. It includes important principles as well as preparation instructions for all of the models.

Bible story resource section.

Select stories from the resource section of the Bible StoryFire Leader's Guide. Most of the stories in the Bible are included in five extensive lists—Old Testament, Life of Jesus in Chronological Order, Parables of Jesus, Teachings of Jesus, and Acts to Revelation.

Audio series on two CDs.

The six-part Bible storytelling and discussion series on two CDs that can be played on a CD player.

Videos on DVD.

A portable DVD resource will all the demonstration videos.
We'll have an online purchase option set up soon. In the meantime, to order the Bible StoryFire Leader's Guide now for $25 (includes shipping), contact us via email at BibleStoryFire.com or use this Contact Form.